Hey guys! Hope you are doing well and are having fun creating beautiful moments with alcohol inks. This blog is for all of you and for the budding alcohol ink artist out there. Now for whatever we do in life after a certain point, we would want either some motivation or some references to look at and ponder upon, because seeing someone accomplish something extraordinary, against the odds or adversity can do the same. So NARA would like to present you some inspirational stories from top alcohol ink artists who are extremely talented and skilled and would be a great source of inspiration for you!
We got in contact with these lovely artists and asked them to share their journey toward alcohol ink art, which we thought would be really of great help to you, and guess what? They really have some amazing and fun stories to share. All these artists have a very unique style of working with alcohol inks hence it is impossible to rank them, so do note that the artists mentioned below are in no particular order. We would suggest you read about these artists and find yourself the perfect mentor according to the style of working with alcohol inks you like or prefer! Also, this is just part 1 of 2 so we are going to introduce you to more amazing alcohol ink artists, stay tuned! So without much delay let's dive right in and get to know these amazing artists better.
Note: You can directly head to their Instagram accounts by clicking on their names.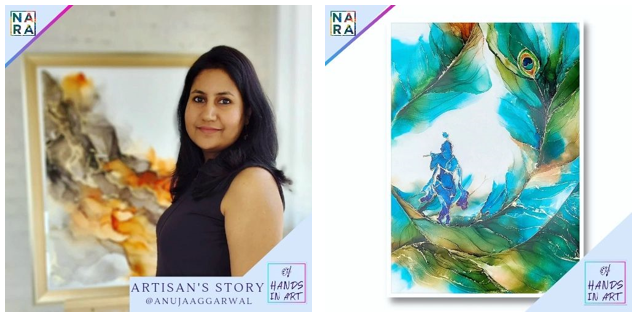 Follow her on – @anujaaggarwal
I've always loved painting and whenever I see something beautiful, it pulls me in. Art has been my "hobby" since I was a kid, but I never thought that it would become my "profession". I dabbled with different mediums, and then alcohol inks came in my life. I remember seeing some of the initial artworks people had posted on social media and I got immediately mesmerized. When I started with inks, there was not much information online about the techniques and how to use them, so it was all about experimentation. Discovering something new, the play of colors, the ways in which the inks behaved under different situations, the beautiful moments created by the inks got me completely hooked. I have been painting with alcohol inks for past 3 years now, have taught over 2,000 learners through my workshops or online courses, and have sold paintings all over the world. This has been a tremendous journey and there's so much more to come. Each day is unique when I work with inks. My art is all about enjoying the process. When I am immersed in practice, I find that the colors take control and guide me in any direction and I just follow my instincts. I try and amalgamate the fluidity with some form and start to see things, emotions, memories in my paintings. And that is why each artwork I create is a piece of my heart.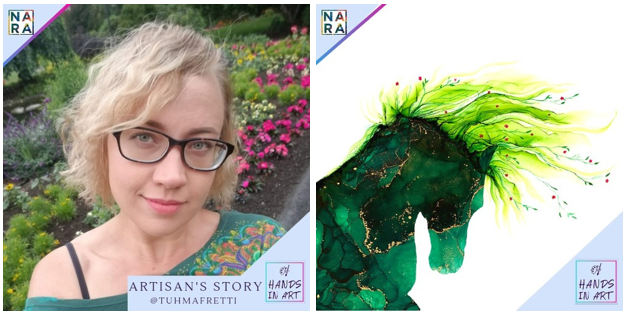 Follow her on – @tuhmafretti
Since early childhood I was dreaming to become an artist. I never needed anything just a paper and a set of pencils. My art journey started with photography about 10-12 years ago and later with photo manipulations. But soon I realized that I want do more and started to learn digital art. At that time I realized that I need more academic approach and started learning realistic drawing in graphite and colored pencils which immediately became my favorite medium. Later I worked in various mediums: oil, acrylic, watercolor, pastels, even 3D animation and lastly alcohol ink. Being a skilled artist by that time I switched easily to alcohol ink, but I was constantly looking for my own style and interpretation. As I never swim with the stream and like to experiment, mix and try to combine my love for graphics with flowy abstract looks that inks provide I quickly found my own unique style that allows me to express myself and not to get bored at the same time.
My life motto is: "ironing boards are snowboards who stopped following their dream and found themselves a normal job."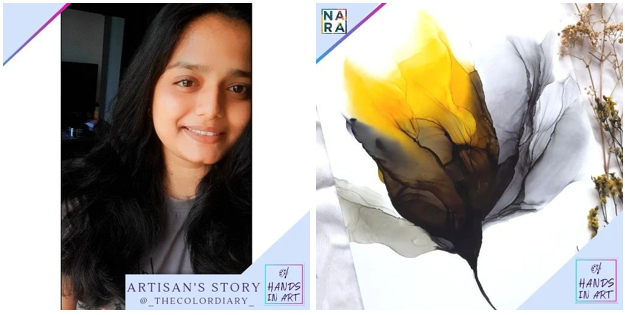 Follow her on – @_thecolordiary_
I belong to a very creative family of architects and designers so in a way I have always been surrounded by creativity. Like most of the artists now, Alcohol inks happened to at the start if Covid as well. I never thought I could have achieved so much skill with this medium because when I started working with inks I was really clueless and unsure about how I would want to take it forward. But then I discovered so many artists on Instagram who have indirectly guided me or motivated me in my learning process and today I can only be thankful and grateful to them. In this journey I also found one more amazing medium to work with and that's resin. Resin has been my go to medium when Alcohol inks don't co-operate with me much because of humidity weather. So ya as far as I have learnt things myself I can say that there are many artists around who have helped me directly or indirectly mastering these mediums . My only advice to all the budding artists is that patience is the only key to success in both these mediums, give yourself some time and everything will fall into line .
If you ask me why the above artwork is my most cherished artwork the answer is really simple . This was one piece where I realized I have a different painting style that I can call it as my own and I can improvise and master it further.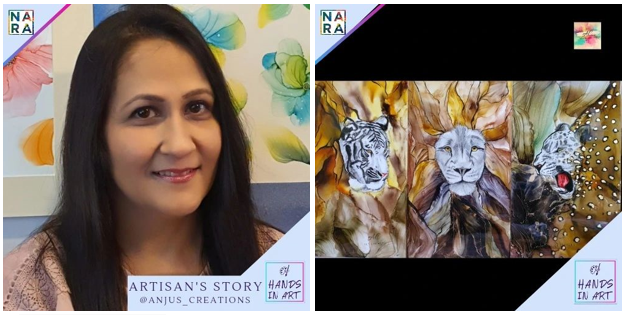 Follow her on – @anjus_creations
I am from Mumbai, India…
I am a graduate in Commercial Arts.
Art is my passion, after doing oil, water colors, charcoal, photography, lots of craft and gigantic foam flowers, I slowly shifted to alcohol inks.
My creative urge to explore more, led me to Alcohol Inks.
Initially l found working with Alcohol Inks is a different ball game. The vibrancy and transparency of this medium attracted me.
Gaining knowledge about flow of alcohol ink on surface, feels like a different adventure every day.
One starts enjoying when you get the hang of it, and I loved it.
I have been into this medium since last one and a half years and have been using Nara products.
Nara has encouraged and given us platform to display our artworks.
I have worked on different techniques of Alcohol Inks and still want to explore more.
I express my creativity and thoughts through my paintings.
I have a small space in my home, which is my art corner my healing space my meditation corner. When I enter my art nest ,I get away from everything… in few words ,
l meditate through my Art.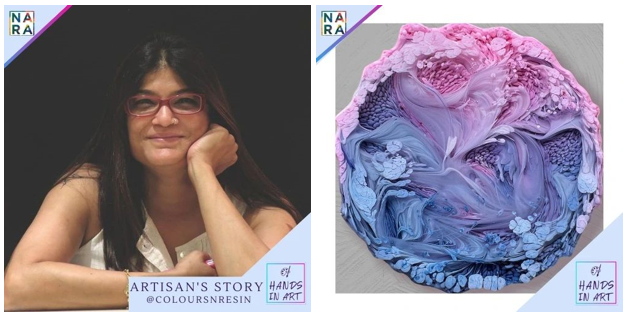 Follow her on – @coloursnresin
I started my resin art journey about 3 years ago. I have always been fascinated by various art forms, and have always liked to try my hand at each form.
It was the magic of the alcohol Inks in resin that got me really curious. As they say nothing is impossible, It took a lot of patience and perseverance to get the Petri art right, but the more I tried the more I loved it. The unknown and the unexpected outcomes of the Petri art are the most fascinating things about it. No two pieces will ever be the same.
It has been 3 years and I still believe I have a long way to go in my resin art journey.. The effects you can achieve are infinite and I've just started working with Inks in resin to make 3D flowers. Although the Petri art will always be my favourite resin art form, I am just as excited to explore new resin art forms.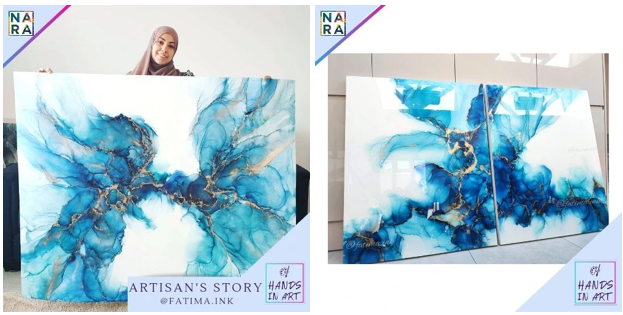 Follow her on – @fatima.ink
My journey with alcohol inks started four years ago after I had my second daughter and suffered post natal depression. I was looking for a creative outlet to act as a form of therapy. I made my own batch of inks from sharpie markers as inks were not widely available in dubai at the time and expensive.
Alcohol inks was a fun, versatile and unpredictable medium that allowed me to re-connect with myself, relax and unwind. It was the perfect therapy session I was longing for. I love using bright, cheerful colours that radiate joy and happiness and my absolute favourite colour is blue. It was my daily evening ritual after I put my girls to bed.
The thing I love most about alcohol inks is they are so unpredictable and you have to really learn to let go, trust your intuition and relax and that's when the inks can do their magic. Alcohol inks taught me a life lesson to trust more in the process and let go of trying to be in control. I always love challenging myself and creating larger paintings that really stimulate my intuition.
I am a mother to two beautiful creative girls, am originally from Iraq, raised in the uk and spent about 9 years in Dubai where my passion for inks was born.
I absolutely love using Nara paper especially to create larger paintings since there is always a risk things really don't go to plan and since Nara is stain free, means there is no fear in experimenting since you can always wipe clean. It adds a whole new and exciting dimension to working with inks.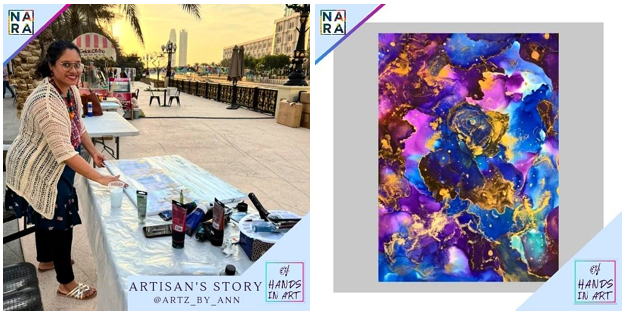 Follow her on – @artz_by_ann
My journey started back in 2020 when I had to stay back home after the pandemic began and the clinic was shut for sometime. It all began when I started my journey practicing heartfulness meditation and that brought me closer to art.
I'm intrigued by alcohol inks as it gives me the freedom to express myself without any limitations. I don't have to follow any specific rules, which is such a liberating experience in itself.I let the inks take me along the journey and let the beauty of alcohol inks reveal itself.
I would be lying to say that this journey has been easy.It requires a lot of dedication and persistence, which is quintessential to succeed as an alcohol ink artist. I have got back to painting after a gap of two decades and I'm so glad because I feel it's like a form of meditation that calms me down and brings about so much joy and happiness.
I'm so thankful to Polina and Anuja that I did my first workshop with them.
In life, once you truly discover your true passion, there will be so many wonderful blessings and opportunities waiting for you. All that's needed is to believe in yourself and keep working hard towards your goal!!
The support I have received from my family, especially my three-year-old daughter, who encourages me when I feel low, and the immense love I get through strangers from social media is wonderful.
And, of course, the encouragement from the team of @narainfiniti has been so wonderful as well.
Recently I got an opportunity to be part of a charity fundraiser which would be happening in June 2022 at the Hiscox building in York, UK. It's basically conducted to raise funds for the Encephalitis Society and help patients who have been afflicted by Encephalitis.
I have always wanted to do some form of social work with my art and I feel truly blessed for being able to contribute as an artist.
One of the best compliments that I have received was when my client's 4 year old daughter said that she wanted to be like me when she grows up.
I'm truly humbled by all this love and support.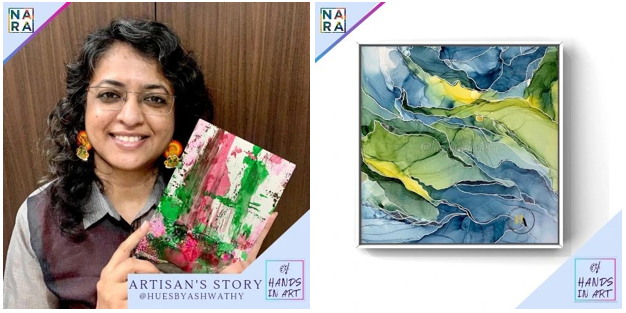 Follow her on – @huesbyashwathy
I am Ashwathy, a Mixed Media Artist from Mumbai, India and all my artworks feature under the brand @huesbyashwathy.
My foray into art happened post motherhood – a serious passion to indulge with many shades, forms and mediums. It went onto become my personal meditative form. My professional journey in art began in 2020. Most of my present works are with alcohol inks & resin (paintings & functional art); but my love for Acrylics and Folk Art remains.
My initial works with Alcohol Inks were amateurish, but my passion to express & the happiness I discovered by painting overcame all my early mishaps and disappointments. It's only natural to be unhappy when you experience failures but the key here is to keep working consistently. These regular pursuits helped me refine my skills. It also paved the way for my creative thinking and experimentations. It took me months of constant practice to gain control over inks, yet, the inks have a mind of their own. As a result, each outcome is unique and this element of unpredictability makes it an intriguing experience:)
Starting small helped! A corner of my bedroom, small sized surfaces and a few shades marked my early beginnings. I graduated to larger surfaces only when I had gained the required skill to manoeuvre the inks and the know-how of the techniques. That helped in having less pressure and no fear of large unsuccessful surfaces piling up; besides being able to be consistent!
Wassily Kandinsky says 'There is no must in art as art is free' and it's this freedom of expression that we all need to cherish. When some of my workshop participants would say that they are not artistic enough, I would tell them to just try and enjoy the medium and let their imaginations flow without any restrictions or expectations. There is no right & wrong in art; only the journey of discovering 🙂
The energy of art is very therapeutic for me. Creating and Painting breathes a different kind of happiness in me and I hope that you too will see and feel that joy coming through as you navigate through my artworks on my Instagram handle @huesbyashwathy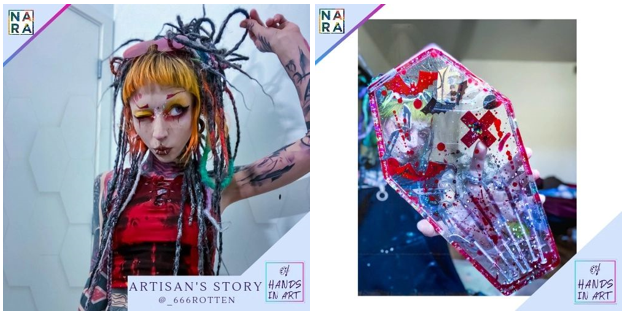 Follow her on – @_666rotten
It's a pretty dark story that lead me down the path of art finally, after taking tons of other destructive ones trying to find the person I am, while an uphill battle with alcohol addiction from 2012-2020 was coming to an end, giving me chronic pain.. I first stumbled randomly on paint pouring on YouTube and instantly knew that's what I was meant to do, finally after searching for years knowing there's something out there for me I just haven't found it yet… art was the last piece to my puzzle and helped me regain my sobriety, and a new love for life, I don't need anything else I have art and it felt like I opened a door of endless possibilities when I started working with inks and Nara Paper. Art is my therapy
There is never an age limit of when you can pick up art. I thought I was doomed but found my passion for abstract art in my 29th year of living heh even if your time is limited and you want to try , start with some basics, Nara paper wipes off completely so you really don't have anything to lose!!!! Start whatever you desire with good intentions and that is what you'll get back.
Our Final Thoughts & Tips
We hope you got a lot of useful insights of the alcohol ink art world by reading what these amazing artists had to say. You could also read our previous blogs on top Indian as well as global artist and their experience with alcohol ink art so far.There's so much to learn from our lovely artists, the experiences and stories that they have shared with us are so amazing! They have faced a lot of obstacles throughout their journey but they never gave up and that's the kind of attitude you require in order to become a professional alcohol ink artist and turn your favourite hobby into your profession!
Our tips to you would also be very similar, keep practicing, enjoy the process and never stop learning! Alcohol ink art is very therapeutic in nature so whenever you`re feeling low just get your paper & inks out and start creating! If you ever need help with anything related to alcohol ink art please feel free to get in touch with us, we`re always here to help & guide you.
Lastly, do follow us on Instagram & Facebook for amazing alcohol ink art related content and other important NARA updates.